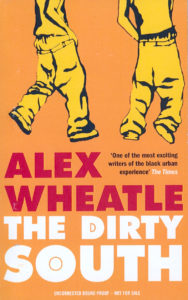 With this novel the Brixton Bard brings the trilogy that starts chronologically with ISLAND SONGS, followed by EAST OF ACRE LANE, right up to date. Dennis is a 23 year old Black British man sitting in jail. In the first person he tells us how he got there, beginning at the beginning. Dennis is from a good hardworking family, not poor, not rich. His parents value education and Dennis has a good brain. But with the need to impress his peers, get the right clothes, earn quick money he finds himself immersed deeper and deeper in South London's gang culture where young black men convert to Islam without the Muslim communities support just to give them a sense of power and the ability to get rid of their rivals, kicking them to pieces in the name of Allah. When his best friend Noel dies at the hands of one of these 'Muslim' gangs, Dennis finds himself with some serious choices to make. A glimpse of real life on the streets in inner cities today, this fast paced, moving, insightful and frightening novel is Wheatle at his unforgettable best.
'The plot moves quickly, and even though the story is clearly location specific, race seems light years from the agenda. Instead, the author seems keen to detail an urban blight that could affect anyone, from any city. The power of love is evident in every grimy chapter, whether at home or on the streets. Many of the novel's relationships are strong and true. Wheatle is a sharp-eyed observer of the modes of behaviour and language that make up his fictional world. As such, he can't help but fill every page with hard-boiled authenticity. Clever links with previous works mean that former characters are either referred to, or turn up in unexpected cameos, making The Dirty South a welcome treat for fans of his oeuvre.' Courttia Newland, Guardian
'This is a thoughtful novel. Part love story, part social commentary. Wheatle depicts a much-changed Brixton to that of his earlier novel East of Acre Lane. Where once the soundtrack was reggae now lives are lived to a hip-hop beat. Where Rastafarianism was once the religion of rebellion now black Muslims attempt to claim that mantle. But as Wheatle skilfully shows, for a variety of reasons, the options for young black men are as limited as ever.' New Nation
'Wheatle is a man with a mission. He believes that truth has to be articulated. Good stuff.' Sunday Express
'Authentic, witty and gritty' The Times
'Wheatle has written a compelling novel that does not disappoint. It highlights the temptations of thug life on offer for young black men growing up in Brixton, and disaffected youth culture, as well as engaging with issues of our times.' Aesthetica Magazine
'The Dirty South has many points to make about the black urban youth experience in Britain, but it makes them without bitter recrimination. It's told with wit, verve and style… I laughed far more than I cried. But I did cry too. Like Shane Meadows in the film world, Wheatle shows that every life has moments of beauty – even lives right at the bottom of the pile. There's also a deep understanding of the social milieu at work, and although the book is written in a casual style, with patois and slang dialogue, themes of alienation, lack of opportunity, failing education, family cohesion and social history are crafted seamlessly in.' The Book Bag (Five star review)
'Brilliant… Often brutal but always compassionate, a galvanizing piece of work by someone who obviously knows these mean streets.' Kirkus Review
'Wheatle has the ability to describe Brixton and its transformations with a clear, lively and ironic style, which raises his works over so much literature… THE DIRTY SOUTH and EAST OF ACRE LANE are dynamic texts impregnated with strong evocative power, building to real insight into the life of the neighbourhood.' Il Fatto Quotidiano
Sales
Serpent's Tail UK (WEL)
Edizioni Spartaco Italy
Film option sold to Heroes Films
Material: finished copies (214pp).