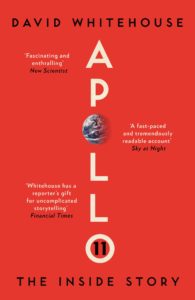 Longlisted BSHS Hughes Prize 2021
Dr David Whitehouse is an expert on all things 'Space'. His new book takes us through the space race, the politics, the mistakes, the near-deaths and deaths. Using unique and priceless material from interviews with the main players – the astronauts and those behind the scene, Whitehouse gives us first hand accounts in a book that reveals more than any other ever has about the early missions, the probes, the build up to the final landing, the drama of the competition between Russia and the USA. Edge of your seat stuff. To be published to coincide with the 50th anniversary of the Moon Landings next year.
'this is a fast paced and tremendously readable account of the post-war development of space flight' Sky at Night – Book of the Month.
'David Whitehouse has a reporter's gift for uncomplicated storytelling, shuttling us back and forth between the USSR and the US as the two superpowers battle for cosmic supremacy' Financial Times
'An authoritative account of Apollo 11 and the end of the space race, shedding light on the true drama behind the mission.' The Guardian
'This is a terrific and enthralling tale of Neil Armstrong, Buzz Aldrin & Michael Collins… and glory on the moon' New Scientist – Best books of 2019
'One of the best books ever written about the lunar landing… Absolutely brilliant.' Engineering and Technology Magazine
'As the eleventh Apollo shot is now part of western folklore, and the 50th anniversary of man's first landing on the Moon will be celebrated on 21 July, David Whitehouse's masterly narration of what he calls 'the inside story' is profoundly gratifying. A former BBC science editor and correspondent, he provides implicit evidence that a nation can best undertake a leap of technological advancement when confronted with the threat of a major war.' The Spectator
'The real strength of this book is its tribute to the human qualities of these men –and they are all men, with the exception of the brief but gripping story of one female cosmonaut – who were willing to sacrifice so much.' Irish News
'In the most authoritative book ever written about Apollo, David Whitehouse reveals the true drama behind the mission, telling the story in the words of those who took part based around exclusive interviews with the key players.
This enthralling book take us from the early rocket pioneers to the shock America received from the Soviets' launch of the first satellite, Sputnik, from the race to put the first person into space, though President Kennedy's enthusiasm and later doubts to the astronauts' intense competition to leave the first footprint.
.. here is the story as told by the crew of Apollo 11 and the many other astronauts who paved the way or followed themselves after the first man to walk on the Moon, Neil Armstrong, alongside Buzz Aldrin and Michael Collins. Astronauts, engineers, politicians, NASA officials, Soviet rivals – all tell their own story of a great moment of human achievement.' ALL ABOUT SPACE, Editors Choice
Sales
Icon Books UK (WEL)
Brilliance Audio
Font Forlag Norway
Material: finished copies of paperback (322pp)