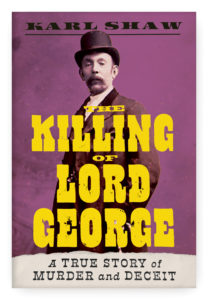 'Karl Shaw has delivered a riveting read, weaving together the extraordinary biography of George Sanger – Britain's answer to PT Barnum – alongside the Edwardian investigation into his tragic and violent demise. With twists and turns along the way, and providing a unique insight into Victorian and Edwardian Britain, Shaw takes us into a dark story of murder and deceit with verve and insight backed with thorough research.' John Woolf, author of The Wonders: Lifting the Curtain on the Freak Show, Circus and Victorian Age.
'Lord George Sanger, became the Prince of Showmen in Victorian England – the country's answer to America's PT Barnum and Buffalo Bill Cody: pioneers of big top circuses and spectacular shows. Karl Shaw's book takes us thrillingly directly into the sawdust ring where every performance was "something new under the sun – twice daily". Sanger, one of the Victorian age's most extraordinary characters, came to a sticky end, apparently murdered. But, after 111 years Shaw has come up with a different – and more compelling – story of the World's Greatest Showman's tragic end. He has revived – and altered – our perception of one of show business's most pioneering figures.' Stephen Bates, author of The Poisonous Solicitor
'Shaw's book sifts the police file for evidence not presented at the brief inquest. It raises enough questions to suggest that Cooper may have been wrongly labelled a crazed axe-murderer. No one alive knows what really happened, however. And if Sanger is looking down from above, the inveterate showman would probably delight in having left the world a final entertaining mystery.' The Stage
From the Daily Telegraph, 29th November 1911: "THE PRINCE OF SHOWMEN BRUTALLY MURDERED".
From the Birmingham Daily Mail, 29th November 1911: "LORD GEORGE SANGER MURDERED – KILLED BY AN EMPLOYEE WITH A HATCHET".
The press were all in agreement on one point. It was an extraordinarily pitiless act of killing and nothing quite like it had ever happened before. The victim was loved and respected by all. Who but a madman would do such a thing? This is historical true crime story about a man who was one of the most famous individuals of his time. The gruesome details of Lord George's murder were front page news and were (mis)reported worldwide in 1911. Karl brings the people and era vividly to life and shows that bungled police investigations and 'fake news' are nothing new. Using data from archives recently made public, Karl uncovers the truth behind this horrific murder and its consequences for the powerless.
Sales
Material: Finished copies (280pp)